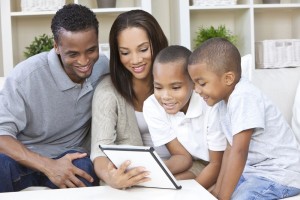 The kids are out of school, the presents all will soon be played with—what's a family to do?? Here are a few family-friendly apps to use to keep your holidays stress free!
CUT THE ROPE: HOLIDAY GIFT (Free on iOS; Original version only FREE on Android)— Gamers of all platforms can enjoy this popular puzzle app where the goal is to feed a little green monster named Om Nom. Using physics and gravity, players must feed Om Nom a piece candy by slicing the ropes (or for the iOS holiday version, a string of holiday lights) it's attached to.
WEATHER PUPPY (Free; iOS & Android)—Smile every time you check the weather with this app that partners with shelters across the country to showcase a different themed puppy each time you check the forecast. You can even add your own pooch to the mix!
FOODUCATE (Free; iOS & Android)—Staying healthy during the holidays doesn't have to be such a challenge with apps like Fooducate which helps you create a healthy holiday shopping list while offering a nutrition grade for different foods and products.
POPCORN FLIX (Free; iOS & Android)—Watch over 700 holiday classics and B-movie blockbusters free from your digital device!
DOGVACAY (Free; iOS & Android)—It's Airbnb for your pets! Find a pet set sitter, stay in touch through a messaging interface, and capture snapshots to share on your phone while away.
KIDSTRADE (Free; iOS & Android)—With parental guidance, kids, too, can be a part of the sharing economy. Snap a picture, give a description, and get a parent's approval to trade amongst friends and classmates. Backpack delivery is always free.
YOUTUBE GAMING (Free; iOS & Android)— This app has a wealth of YouTube video games to choose from and allows players to connect and play for free. Each game has its own page that's divided into live videos, reviews, and "let's plays."
SMILING MIND (Free; iOS & Android)—Don't let the stress of the holidays bog you or your family down. Choose an age-appropriate meditation to listen to and alleviate anxiety instantly. The app creators specifically created Smiling Mind to help turn on young kids to meditation and make it a life long healthy practice.
HEALTH MATE (Free; iOS & Android)— This app is the new Fitbit. It tells your steps walked, calories burned, heart rate, blood pressure AND it tells the time. It also has a scale. This app is your new healthy body scoreboard!
STAR WARS BATTLEFRONT (Free; iOS & Android)—Get on the Star Wars frenzy with this free collectable card game where players can stock up on credits to spend in the main Star Wars Battlefront companion game.
Happy Holidays!!
Comments
comments