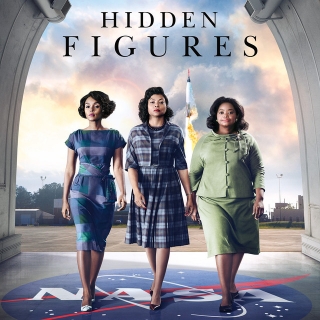 In today's layperson terms, one thinks of a computer more as a thing than as a person. But back in the 1930s, as America faced a second world war on the ground, and a pressing demand to beat enemies into space, the computers we know now weren't available to quickly compute the constant rate of mathematical output necessary to engineers. To perform such elaborate calculations, those who were highly skilled in math were in heavy demand. NASA's predecessor, the National Advisory Committee for Aeronautics, realized the solution was to break conventional 1930s gender lines and hire mathematically proficient women—and plenty of them. Acting as "computers" —their official job title—women helped ease the burden of number crunching and were ultimately responsible for helping America win the space race. But even though gender lines were broken in the 30s, it wasn't until the 1940s that race lines were finally broken after President Franklin D. Roosevelt issued an executive order preventing racial discrimination in hiring for federal- and war-related work that cleared the way for black women to work as computers as well.
Now showing in selected theaters the new Fox 2000 film Hidden Figures gives audiences an idea of the real life discrimination, segregation, and celebration "computers" Dorothy Vaughan, Mary Jackson, and 2015's Presidential Medal of Freedom-winner Katherine Johnson faced in the 1960s as their complex mathematical calculations allowed recently deceased John Glenn to become the first American astronaut to make a complete orbit of the Earth.
Starring Taraji P. Henson, Octavia Spencer, and Janelle Monáe, Hidden Figures is out in selected theaters now. Today on 'Dot Complicated with Randi Zuckerberg' producer Mimi Valdes and Fox 2000 President, Elizabeth Gabler discussed how the film inspires women and encourages STEM for girls, regardless of race.
ELIZABETH GARBLER
"Hidden Figures was submitted to us from our producing partners. We were fortunate to get it first."
"We even had a women cinematographer. 3% of cinematographers are women."
"The house we used for Dorothy Vaughn's home was a place where MLK and other leaders congregated."
"The computer in the movie takes up the entire room."
"So many other larger stories of men and astronauts and the more action aspect of this story.
"There's a young adult version of the book as well."
"When you find a story like this you just hope audiences go."
"We showed Katherine the film with two of her daughters. It was terrifying for us. She was overjoyed at the way their family was portrayed."
"Katherine kept saying 'piece of cake' because NASA was a piece of cake."
"It was a really inspiring experience for us to watch these women."
"There are so many new career opportunities for women. There's STEM and there's STEAM with the arts added into it."
"All of us are so inspired by what John Glenn did. I'm proud that we're a part of his legacy."
"John Glenn said 'get the smart girl to check the numbers.'"
"Ted Melfi was very excited about Taraji. She was the first role that was cast."
"You can only imagine how many actors and actresses wanted to be a part of this movie. Janelle Monae was the perfect third part of the story."
"Octavia would come to the set even the days she wasn't working."
"The message for all of us is to keep trying. Sometimes you don't know what your future path will be. Keep following your dreams."
"Our medium is one of entertainment. The emotional factor is important. We tried to infuse as much humor as we could."
"We tried to make the film suspenseful and funny and inspiring."
"Pharrell insisted we do not change the title of the film."
"One of my daughter's math teachers said was there's no such thing as a non-math person. It's true."
"We embraced this film completely because we loved it."
"We need to look outside of our normal places of finding people of talent."
MIMI VALDEZ
"When you feel good you perform your best."
"This was everything we look for in projects."
"Pharrell has a program that does events for STEM. We both met Katherine Johnson before."
"Story is everything. There's no specific formula. Does it entertain, does it inspire?"
"Most movies with three women are women hanging out. This actually shows the brilliance and strength of women."
"Change is scary. It's all about how you propose them."
"You hear a lot about first weekend or second weekend, it's so important."
"Octavia was thinking about how the women weren't even able to vote at the time."
"We glamorize so many entertainment positions, but if there were more movies like this we'd see more women and people of color in those positions."
"We were trying to help people see math as an important thing."
"On paper this film shouldn't work. It's math, it's period. But the team that put this together made it feel true to it's mission and pop culture relevant."
"All the scenes with Taraji at the board doing math, she really did that math. She memorized it all."
"When we got Kevin Costner it was a really big deal because he's The Bodyguard and everyone loves him."
"Taraji would have all the women over and they would have these love fests and you feel that on the screen."
"As long as Hollywood's been around it's hard to believe there are so many unique stories that haven't been told."
"I'm tired of seeing the same movies over and over again. To be involved in something so unique is exciting."
"Pharrell had already been working on 60s inspired music and didn't know what he was going to do with it."
"'Running' was done right before filming. Ted listened to the song while he was shooting that scene."
"Our first film was Dope which was about geeks and nerds. You don't get to see people of color that way."
"We believe in this project so much we decided to help women grow in these films so there's a $200k grant competition we're doing as well."
"Nothing in this world can happen without math. I love the idea of participating in the mission to make math cool."
"We tell diverse stories and we try to make sure the cast and crew and diverse as well."
"Our next movie just got into Sundance about the first female emcee."
Hidden Figures is open now in 16 cities on Jan. 13th worldwide; HiddenFigures.com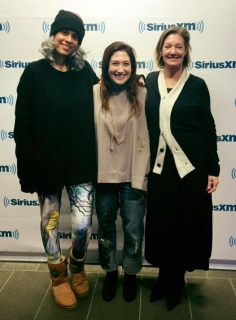 Join Randi next Thursday, January 5th, at 12pm ET /9am PT LIVE from the annual Consumer Electronics Show is Las Vegas!
Comments
comments