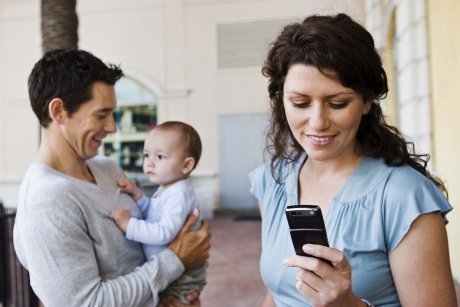 The Bump | Week-by-Week Pregnancy and Newborn Tracker – By The Knot Inc.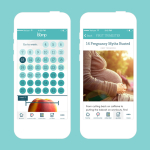 This is a true gift for all the pregnant ladies and current mothers. The Bump offers real-time parenting advice through a feed of content personalized to the week of your pregnancy or your newborn's development. With this app, you can get all the information you need including videos, calendar to-do items, a community of moms, your own belly photos and supportive articles created by our own expert editors. For both my pregnancies I looked for advice and insight from The Bump and their platform has been an amazing way for me to learn about what I should expect or the things I want to know about my baby.   The updates and information I receive every week are so spot on with my children and help me understand the stage of development they are in, which is so essential of raising a happy baby or child.
The App has a recent feature update offering real answers from The Bump Editors, Experts, and parents like you covering questions about trying to conceive, pregnancy and parenting. The Bump is the first Pregnancy App on the Apple Watch. Have your pregnancy and parenting guide at your fingertips and put yourself at ease. The Bump makes it easy and enjoyable for the everyday parent.
The Bump is Free to download.
Baby Connect (Activity Logger) – By Seacloud Software LLC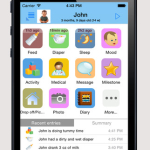 Ever wonder what your baby is doing while you're away? A million questions go through my mind and I ask myself when baby last ate, what is my baby currently doing, when was their last diaper change, and more! As a parent you cannot help but think of your precious little one when you are not there. Baby Connect is a perfect solution to track your baby's information in an easy interface with unlimited data.
Anyone can record feedings, nursing, naps, diapers, medicine, vaccine and growth tracking, milestones, pumping, and also the baby's mood, temperature, what kind of game he's playing, his gps location, and attach pictures. This App really has it all! I use this App to synchronize information with my spouse, nanny, daycare, and when they go to grandma's house for the day. I love that I can see real time updates of what is going on while I am at work. Every parent should have this App!
Baby Connect can be purchased for $4.99 in your App store.
Cozi Family Organizer – By Cozi Inc.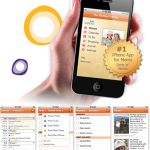 Take control of your household by organizing your tasks into daily routine checklists while keeping everyone in the loop. Staying organized is my thing, and this easy to use App makes life that much easier. Cozi Family Organizer features a family calendar, shopping list, to do list, family journal, and a recipe box. I personally bought the Cozi Gold because I wanted the premium features and add-free version. But the free version works great as well. I use Cozi App every day to remember something, add a new appointment I made, or update my shopping list. Cozi is very useful for the family keeps everyone on track so we never miss an appointment or family gathering!
Cozi Family Organizer is Free to download. Premium version available for $19.99 for the whole year. 
Spending Tracker – By MH Riley Ltd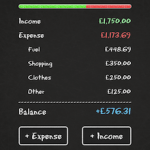 Following a budget and managing your finances has never been so easy. Planning where your money goes allows you to always have enough money for what you need and what is important for the month. This App is Free to download and easy to use with a simple interface. The user enters in their expenses and income to get instant control of their spending and visual reports.   I use this App religiously as I want to effectively track my expenses and budget my money. Since I have downloaded the App I have become a wiser spender, minimized my impulse shopping habits, saved triple the amount of money in my different savings accounts, and I can visually see my summary review and reports by category. When you are a parent, it is so hard to save at times with the cost of raising a child and the fact you want the best for them. I have a boy and a girl, believe me I know! My priorities have changed and aside from saving money and buying my children the necessities, I want to show them the world. Spending Tracker App lets me know how much extra money I have each month after the bills are paid. Easy to make this App a daily habit and see where your money goes.
Spending Tracker is Free to download. Pro version available for in-app purchase.
Healthy Recipes – By SparkRecipes
For my family having a balanced eating lifestyle is one of the most important aspects of our day. Mood is food, and what we eat will make us or break us. Healthy Recipes has over 500,000 recipes from the world's largest healthy recipes website, making it fun to try something new.   My 4 year old daughter already understands the importance of eating healthy and the value of exercise, while my 2 year old son loves to eat whatever mommy makes. While most of my recipes are self-made or passed down from generations, I still love to try something new or get inspiration from a recipe. Just like all aspects of my daily routine, I plan what I will eat for the day and track my nutrition. Twice a week I meal prep all family lunches and dinners to make sure the food we eat is healthy, balanced in terms of food category, and to ensure we reach our daily intake of nutrients and proteins. At first this was not easy, but with the help of my personal trainer and Healthy Recipes App, I was able to control the things I cook and think about what we are eating, before we eat it. Little eaters will become less picky when you are excited and put love into each meal. I highly recommend this App if you are looking to cook healthy and keeps things interesting at the table.
Healthy Recipes is Free to download.
Vanessa Miller is a buyer for baby product distributor, Best Babie. Learn more about Vanessa at: http://www.vmtechygirl.com
Comments
comments