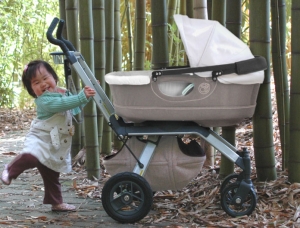 With 4.3 babies born each second and over 2 billion moms around the world, parenthood is another thing technology is helping to improve.  As a new parent you'll go through 7,300 diaper changes by baby's second birthday. On average, most parents take 2 minutes and 5 seconds to change a baby's diaper, which adds up to three, 40-hour work weeks a year. That's like a freelance job without the pay!
Parenting is currently a $6 billion dollar industry and tech is changing all the rules. On today's Dot Complicated Joe Hei of ergonomic, pedicure friendly stroller/car seat Orbit Baby and Cara Delzer of consumer, tech-based products for women Moxxly.
Later in the show former model and CEO of Fashion 360, Anina Net discusses fashion and tech in China.
Here are the best snippets from our conversations:
Reports on Grumpy Cat making owner $100 million dollars:
"That's one hell of an entrepreneurial cat." —Anina
Google gets girls to program the tree lights for the White House:
"As a father of three girls I love it."—Joe
Amazon unveils line of diapers:
"I have to test it first. There's a big difference between good and bad diapers."—Cara
Inmates in San Quentin can now learn how to code:
"As a former teacher I'm a firm believer in education for everyone."—Cara
"When we first went out to talk to retail partners we definitely felt discrimination because we were male in the baby market."—Joe
"Put the user at the center of the design first." —Joe
"Parenting in general matters more than anywhere." —Joe
"Celebrity endorsement is important because it's difficult to establish credibility. But whatever products come from that really need deliver." —Joe
"Working with my wife we ended up having to have rules. No talking about work after 7. "—Joe
"I like to talk about how good it is, we have a shared experience, the commute is a great time to talk to each other." —Joe
"I went back to work at 3 months and my breast pump was the most stressful part of that. I knew there had to be a better way." —Cara
"Our goal is to support women. We want to make the breastfeeding experience as comfortable as possible." —Cara
"You're dealing with kids' safety. The way we look at it is it's a competitive market for us." —Joe
"These products are designed for transporting a baby and feeding a baby, so safety is crucial."—Cara
"You need to sit with parents and understand that they're going for."—Cara
"We believe in products that you put into parents hands. We go out with small teams and scour what people are looking for in different environments."—Joe
"Going global like places in Sweden help because we're learning about cold weather."—Joe
"The carrying handle on our car seat we thought it was going be great. It was a guy's centric view like a briefcase. After talking to moms we made it soft and padded structure." —Joe
"We go out on a weekly basis and make tweaks to the prototype. Go to HelloMoxxly.com, sign up and become a beta tester."—Cara
"Our fiber optic dress gently illuminates as the night wears on."—Anina
"The current archaic model of a runway show is boring. Our show is actually very well laid out.  If it were a ring we use video, sound, and light to explain what that piece is."—Anina
"Misfit Shine has a sports' tracker, doesn't need to be recharged and can be thrown in the laundry. But how can you move that into the fashion space."—Anina
"They give us 300 Shines and we built Shine jewelry answering how to plug it into an outfit to make it seamless." —Anina
"As robotic and electronics become smaller it will transform fashion." —Anina
"Get fashion designers in the room talking to technologists." —Anina
"I was expected to be a computer engineer but my modeling career interested me more. But my experience in tech made me ahead of the game. I wanted to revolutionize my industry." —Anina
"In China when they want to do something they do it. Over here everybody's is slow." —Anina
"We haven't found a lot of resistance, our challenge is explaining why there needs to be a change in the breast pump industry."—Cara
"Hardware is hard, software is hard. We have to make sure everything has been to be comfortable and supportive."—Cara
"When we were going out for our seed-funding, their kids were 17 so the communication gap of how technology and prices have changed. We were playing in a space that has changed fundamentally."—Joe
"A lot of people discount the sweat equity to get things made. The long nights, the pollution in China."—Joe
"We haven't locked a price, but what we look at is as how much is she already spending on this space already."—Cara
"Our take was practical, we felt like a new technology needed a new price point to follow that. It was the only way to make the business work."—Joe
"I love that because I'm in China I already have a start-up budget that I get to work with."—Anina
"When we can find the right aesthetic that can meet the H&M price point, then we'll find that sweet spot."—Anina
"Shrink it and pink it is from my co-founder Gabriella about how people usually market toward women. We don't think along those lines."—Cara
"In Italy there are a lot of beautiful fashionable maternity clothes."—Anina
"Do all your testing and tell parents the story of what it took to create that product."—Joe
Join "Dot Complicated with Randi Zuckerberg on SiriusXM" next week to discuss how to make money from your favorite games like Candy Crush. Only on SiriusXM Business 111 9 am PST / 12 EST.
Comments
comments