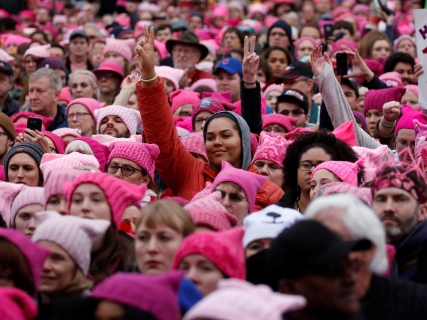 Bob Bland is a New York City fashion designer and the CEO and founder of Manufacture New York—a social enterprise geared at rethinking the fashion ecosystem with new ways of promoting indie apparel companies and local textile production for the 21st century. And if that isn't cool enough, she's also the Co-Chair of the Women's March on Washington.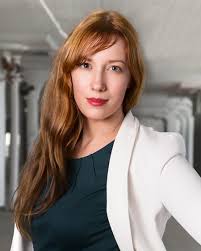 BOB BLAND
"As someone who can't remember all of my passwords, I'm all about biometrics."
"I grew up in Northern Virginia outside of D.C. Both of my parents were public school teachers."
"I got my entrepreneurial bug from my taekwondo master. His spirit lives on in me."
"I've been sewing forever, I couldn't stop. My mom taught me."
"The family that kicks together sticks together. I learned community for taekwondo."
"It's important for all of us to recognize how important it is to have a protégé learning everything we've learned."
"Every single one of us has a superpower. We can contribute in our own way with our passion.
"Fashion is the number two polluter in the world. There are a billion jobs. There are different ways fashion impacts the industry."
"Everyone has a different type of device—or no device at all. But 100% of all people will probably be wearing clothes."
"I'm an accidental activist. The Women's March on Washington was my first time organizing something bigger than a local scale."
"I got up on November 9th and couldn't believe I was living in this alternate universe."
"I realized I could be depressed or do something about how I felt."
"A Hawaiian grandmother had also put up the same idea to have a march on Washington on Inauguration weekend."
"We organized very quickly and every hour 10,000 people said yes, they were going to this. Our FB was flooded with messages."
"24 hours later we have over 125,000 people saying they were going. We had already set up all the different states."
"The momentum showed the impact of women we have together."
"All of the incredible women on our organizing committee allowed it to be the largest mass mobilization in US history. Women stepped up."
"We need to take the Women's March example and put them toward our own initiatives."
"With the Women's March, we were the spark. We don't own this movement."
"Go to WomensMarch.com and go to the Unity Principles."
"We're seeing incredible coalitions like 2 Hours a Week, Swing Left. There's different ways to combine social media and activism."
"Manufacture NY launched 400 brands. I've had experience with launching websites."
"Younger entrepreneurs need the skills to launch their own ideas as well."
"Immediately in my mind I saw the idea for a Nasty Woman tee-shirt that even an executive could wear."
"Within 48 hours we were able to donate $20,000 to Planned Parenthood for the Nasty Woman T."
"My baby came early because of all the Women's March planning."
" You need tech skills to be an activist today. For us dinosaurs, remember that Gen Z has those skills."
"If you don't have tech skills, that should not prevent you from getting involved."
"I was trying to replicate an outfit on the cover of Seventeen magazine. That was the first thing I designed."
"I was making all my friend's prom dresses in high school."
"Every part of my career has led to the next part. There's no achievement. It's about the journey."
"One of my first fashion jobs I was applying for, when they realized I wasn't a man, hung up on me."
---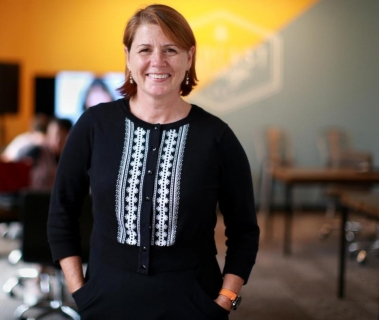 Kerri Hoffman is the CEO of Public Radio Exchange, an award-winning company shaping the future of public media content, talent and technology. PRX is a leading creator and distributor, connecting audio producers with their most engaged, supportive audiences. For over a dozen years, PRX has operated public radio's largest distribution marketplace, offering thousands of shows including This American Life, The Moth Radio Hour, On Being and Reveal.
"Like many women and many moms, my path is a crooked path. It involves many great people who helped."
"I started my career with Greenpeace, hanging from buildings."
"I learned early on to help artists be successful pay attention to the funding and support."
"In 2002 we were interested in giving radio shows a longer life. We built a licensing revenue for those shows."
"We gave more choice to people listening to public radio."
"We created a database to diversify the airways quickly."
"We were naturally aligned with public broadcasting and podcasters eventually as well."
In 2014 we created Radiotopia, a curated network of podcasts."
"Greenpeace was a formative place to work. It taught me to not be afraid. That's a lesson you have to get when you're young."
"Public radio is turning 50 this year. It's commercial free radio dedicated to art and education."
"The big brands like NPR have been around for a while. PRX was born into the digital space."
"There are 800+ public radio stations around the country. They create a network of content."
"Vermont airs a show called Vermont Edition where they tackle local issues."
"Public radio is fueled by what's happening in the world."
"The number of crime podcasts that exist because of Serial is astounding."
"The more content we're exposed to, the more creative content we create."
"One of the things that happened with The Moth the exposure to great stories meant people were telling better stories."
"The same thing is happening in TV. No one would argue that this isn't amazing content on television. Tech makes it better."
"For podcasters: Telling a really good story is a tall order. Sound engineers advance the story."
"You have to know who you're making your podcast for. You have to market it well too."
"Some of the more successful niche podcasts serve the listener."
"We're very intentional about hiring women. It's not just the hosts. Our sales teams, our engineers."
"When we started Radiotopia comedy podcasts dominated. Two guys with a microphone kind of content."
"We had a contest opening up to podcasters, giving everyone a fair shot to help shape their good idea."
"My attraction to Greenpeace was their biggest campaign, Save the Whales. I put my life on the line for the US climate convention in the 90s."
"My first job with public radio was cutting checks manually. And I mean manually."
"The Moth was my first podcast that I ever really listened to and related to. I became a huge fan of 99% Visible." 
"We recently opened the Podcast Garage in Boston, a low-cost studio anyone can train or host from."
"You can prototype faster and test in podcasting. You can't do that in broadcast."
"A great way to start with podcasting is the Radio Public Mobile app."
Join Randi Zuckerberg every Wednesday at 12pm ET/9am PT for new guests on Dot Complicated! Only on SiriusXM Business Channel 111!
Comments
comments