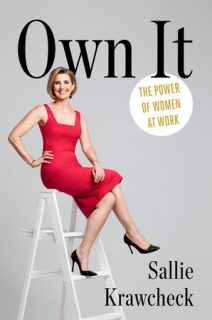 If Own It: The Power of Women at Work is not already the number one book on your 2017 reading list, it should be. Often called the 'Most Powerful Woman on Wall Street,' former CEO of Merrill Lynch Wealth, Smith Barney, and Citi Wealth Management, finance titan cum-author-and-investor Sallie Krawcheck is now redefining investing for women with Ellevest, a digital advisor that creates realistic and specific portfolios to empower women to use their longer lifespans and career gaps to work for them to accomplish their monetary goals. Today on 'Dot Complicated with Randi Zuckerberg' Sallie Krawcheck discussed how her own rise to the top inspired her to encourage women to do the same.
"Anything that helps bring financial responsibility to kids earlier is great. You know the schools aren't doing it."
"I took the one mandatory math class in college. It was only after I graduated I thought I should learn about Wall Street to write about it."
"I love analysis and dealing with people."
"I knew I worked with mostly guys but I didn't think about what that meant until after the financial crisis of 2008."
"The men of Wall Street didn't see this coming. I thought people weren't fully considering all the numbers. It got me thinking about diversity."
"Diversity isn't a good to-do, it's a smart to-do."
"I became convinced about the power of diverse teams."
"Women retire with 2/3 the money of men and live much longer. Closing the gender pay gap and gender investing gap for women is the answer to that."
"The retirement crisis costs women hundreds of thousands of dollars over their course of their lives."
"The Ellevate Network came from engaging with professional woman. Ellevest came later. I have a community of 65,000 professional women."
"There's a period of time in building a business when it's time for the CEO to go away and let people work. So I decided to write a book."
"So much advice for women is distilled down to act like a guy. The advancement of women has stalled."
"Business is changing and tech is changing everything."
"The power of diversity is diversity. Not bringing in people and having them act like men."
"The typical way of investing is about spending money to make more money. CNBC is NFL Sunday. Women feel cold about this."
"Women want to invest as a means to end. To buy a house, open a business. Ellevest helps women do those things."
"Women tell us information about themselves and what they want to achieve. Then we take into the fact that women live longer and career breaks."
"Do not invest until you've got everything paid off."
"Invest in an IRA or 401K. You can do 1% out of every paycheck."
"One thing that keeps women from investing is worrying about the market going down."
"You can invest with as little as a dollar."
"The Baby Boomer males are the still the biggest amount of investors and also the highest risk investors."
"Women and Millennials are looking for their money and workplace to work for them."
"Men accept jobs for money, women accept jobs for meaning and purpose."
"I had a Passbook savings account in third grade."
"My first investment was in Ann Taylor. I bought it really well and forget to sell it."
"I do a highly diversified portfolio and don't play with stocks at all."
"My biggest investment was Citigroup."
"Can you crowdfund it? Women do better than men do."
"Go to Ellevest.com. We publish a e-book about gender funding gaps."
________________________________________________________________________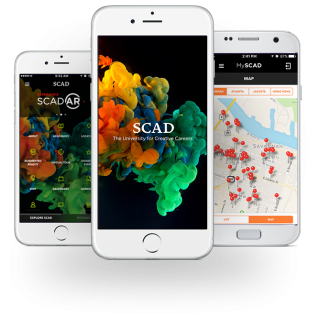 SCAD VR
The Savannah College of Art & Design has just become one of the only colleges in the world to attract prospective students using augmented reality to showcase the student experience in the most realistic way possible—without actually setting foot on campus. This summer, SCAD released a 380+ page AR catalog detailing the degrees, majors, and opportunities it offers to creative students. Here with me to discuss the AR student experience are Vice President of Information Technology, Brad Grant, and Executive Director of Interactive Media, David Hanak both of SCAD.
"I run everything tech related for SCAD. That's all four locations. Whether it's the tech in the classrooms or the tech throughout the school."—BRAD
"We handle all the interactive experiences."—DAVID
"We have our own SCAD app with an AR function that allows you to scan over 85 pages."
"It all starts with the cover. By scanning the cover it brings everything to life."
"When you peel open the catalogue, we dig into videos about the campus and get a virtual tour. There's a lot of micro-action built in."
"We started with VR for the university a few years ago. We wanted to relate to our students and educate them as well."
"We had incredible online tours. But we knew we could take those tours using VR. We sent about 30,000 headsets to prospective students and professors."
"We had a highly successful VR campaign. We were the first ones in education to do it in scale."
"We're not afraid to take risks and experiment."
"We wanted to do more with our catalogue. How do we tell a story in 2-3 pages? We realized through AR we could get deep into the programs."
"Until you've really experienced SCAD you can't understand how amazing it is. AR helps."
"We got an uptick in applicants when we sent out the VR goggles. It was a smart business decision."
"We worked for 1 year integrating our digital and print teams. It took 50 people to put into production."
"We needed a space to highlight our student's work. You can't highlight animation with a still image."
"AR can be gimmicky if you don't have a good business case and use case for it."
"I'm excited about any use of technology. I'm fascinated by all of it."—Brad
Tune into 'Dot Complicated with Randi Zuckerberg' every Wednesday at 12PM ET only on SiriusXM Business Channel 111!
Comments
comments