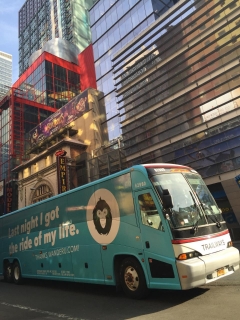 Wanderu now has more than $1 billion in partner ticket sales and generates over $100 million in annual revenue. But life for Wanderu wasn't always this glossy. The early startup days were filled spent trying to convince transportation companies to partner with the company. Now Wanderu has investors like the former CEO of Greyhound and the former Orbitz Chairman.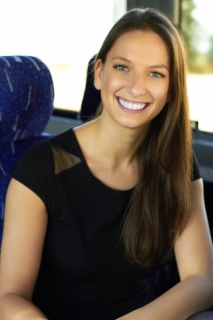 Polina Raygorodskaya is the Co-Founder and CEO of Wanderu, the leading search aggregator for bus and train travel shaking up the transportation industry.
"I started my first company in college. It was a PR firm. I ran the firm for 6 years before Wanderu."
"Wanderu came to me at a time of need. I didn't have a car and trying to book train or bus travel was so daunting."
"Mobile sites weren't available for bus and train. It was really frustrating."
"I went to Babson College which teaches you how to be an entrepreneur. It's a mindset. You need to be a little bit crazy and have undying optimism."
"Having an undying belief you're going to succeed can be daunting."
"When I started Wanderu it was solving the need of how to get to point A to point b. We have a routing technology that combines multiple modes of transport in just a few seconds on your phone. We simplify the entire booking process."
"It's discouraging to new entrepreneurs when all you see are success stories. It's not 100% all the time. There's a lot of failures and tough times. We've all gone through it. The challenges become different at different stages of the company."
"I spent a bunch of my time combing through people who understood the industry. I knew we needed a good advisor. I wanted someone from Greyhound. I found the ex CEO of Greyhound who raised private equity money and turned the company around before they went bankrupt. I emailed around to be introduced to him. I got an email back from him, called him and he said, 'Who the hell are you and why do you think you're going to be the person who says they can do what you say you're going to do?"'
"Sometimes these bad things that happen are the best things that could happen to you."
"There's 3 airports in NYC but there's probably 50-100 bus stops.It becomes infinitely more complicated when you have so many different points of pick up. Multiply that across the world and it gets exponential."
"There's no carrier codes at Port Authority. We had to build all the station codes and all the carrier codes. We had to calculate how long it takes to get from one stop to the other."
"I came to the states when I was 4 years old with my parents and two brothers. They had nothing to their name. We were all stuffed in one room. My dad was a delivery driver, he didn't speak English.My dad made enough money to afford a computer course, he got into computer engineering. And now he's pretty high up at Verizon. I watched my family move from a poor neighborhood to a wealthy neighborhood. I watched my family make their way and become successful. What my parents went through was more difficult than anything I work on."
"Look for a niche. What's allowed us to be successful is by finding something relevant to a particular group of people not being serviced."
"A lot of people are trying to solve the same problems in travel. You're competing with companies that have billions and billions of dollars."
"The idea of self driving technology is exciting in the travel space. The bus industry is facing a shortage of drivers. It's a huge challenge for the industry."
"We recently launched in Europe. We're in over 40 different countries."
Dr. Erika Ebbel is an MIT alumna with her PhD in biochemistry from Boston University. She's the host of the Dr. Erika Show, an educational show for kids, she's the Founder of Science from Scientists, which helps address the STEM workforce gap, and she's the cofounder and CEO of biotech startup to improve gut efficacy. Oh, and she's a former Miss Massachusetts. Please welcome Dr. Erika Ebbel to the show.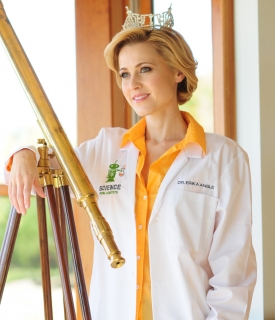 Dr. ERIKA EBBEL ANGLE
"I grew up a huge nerd. I started out doing science fairs as a child. I read 'Jurassic Park' and loved that book. It got me fired up about genetics. In 6th grade I took a trip to a crocodile farm, I wanted to see if cells could commit suicide if infected by viruses. I found a local lab, someone wanted to work with an 11 year old kid and was hooked on science."
"The following year I was looking at a plant that could treat the herpes virus. As I got older I worked on the same project all throughout high school. It was this project that spurred me into biochemistry."
"Edu-tainment, how do you get kids excited about something. Dr. Erika came out of an idea with a production company. They were looking for an interactive throwback to Bill Nye."
"Science came alive because of the science fair projects. I taught kids math and piano at a local community club. I volunteered at hospitals. I decided to help get kids excited about science."
"We have postings on Monster, social media, grad schools. You have to have a science degree and you have to have charisma."
"There is definitely a stereotype that goes along with being a scientist. There's no right or wrong way of doing it, how you portray yourself on the outside should have nothing to do with your brains. It's okay to find that you you're comfortable with."
"When I first started in the pageant system there was a lot to learn. They would ask a lot of questions that were controversial and I was very opinionated. Things aren't always black and white. I had to learn how to explain things. It forced me to take a look at what I was good at and what I wasn't good at."
"One of the biggest STEM gaps is in engineering. There's not enough talent to fill the need. The problem starts early. Something sparks an interest in middle school or elementary school."
"While I was Miss Massachusetts I'd ask who likes science, all the kids in kindergarten would raise their hands. In high school it was only a couple of boys."
Comments
comments