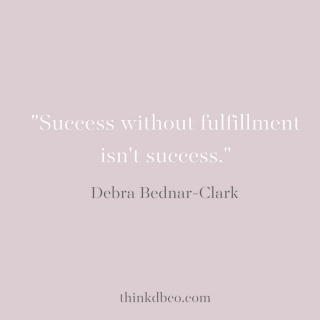 Before starting her career coaching firm, DB + co, Debra Bednar-Clark was the global head of strategy and growth at Facebook and spent time as Microsoft's director of US market strategy and engagement. Now she's inspiring and encouraging women at all stages of their careers to unite their leadership style with their personal style so they can lead, speak and climb the career ladder as themselves and in their own way. From Silicon Valley to Madison Avenue, Debra became known for helping grow some of the world's most notable companies during their most pivotal years and now she's taking what she learned building exceptionally high-performing businesses and helping women prosper in their own careers.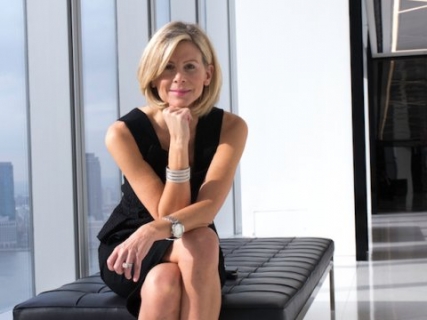 DEBRA BEDNAR-CLARK
"Ground yourself, so whether you have good or bad coming at you, you can stay protected."
"When I was about to graduate college, I had a recruiter at Accenture who saw something in me. I had high math and science scores. He thought I'd be good at coding."
"Coding was a skill I didn't have and wanted to understand. I took a leap of faith and learned to code at Accenture my first 12 weeks on the job."
"Coding gave me the confidence to do anything. When you push yourself out of your comfort zone you can embolden yourself."
"I had many late nights shedding tears because coding was so hard. But I gave myself 6 months. I think it's good to give yourself a time so you can see how you grow and what you learn."
"Later in my career I redefined success for myself. As I was accomplishing more, I realized I wasn't as fulfilled. I was hyper-self aware that something was missing."
"I did a bit of an inventory and asked what I was missing. I built a career on what interested me and all my dimensions. I love building businesses and coaching women."
"Diversity drives innovation."
"Feel confident owning who you are. Hiring managers want people to bring all of who they are."
"Leaders need to celebrate employees who are moving forward. The more you promote that, you create a culture that feels more comfortable."
"I underestimated the benefits you have with built-in infrastructure when starting up a company."
"There's nothing that moves me more than when I have a one-to-one coaching session with someone."
"It's part therapist, part career coach, part stylist. In big corporations people get lost or have anxiety, fear. When people sign up for coaching I get them ready to be honest, vulnerable and raw."
"I ask certain questions around values. Understanding your belief systems, your strengths and package the totality of what they're naturally good at is a value."
"Style is rarely talked about corporate America. It's almost a dirty style. Style is connected to who you are. It's a form of self expression."
"I dulled my femininity when I was coding. I wasn't staying true to myself. It effects how you're perceived around others. Align your identity with your image. Clothes affect how you feel."
"Coaches are unbiased. You need someone to look at you from afar and get the big picture that you can't see."
"Who inspires you and why? I think get out of your industry and connect with someone who inspired you based on their journey. Chemistry is huge. Starting to ideate in the first moment is big too."
—
Bloom Farms is a San Francisco-based cannabis company on a mission to improve the quality of life for millions of consumers while giving back using a 1-for-1 model and donating one meal to a food-insecure family or individual for every Bloom Farms product purchased. Discussing the exploding $7 billion dollar cannabis industry and the importance of corporate social responsibility is Bloom Farms CEO and Founder, Michael Ray.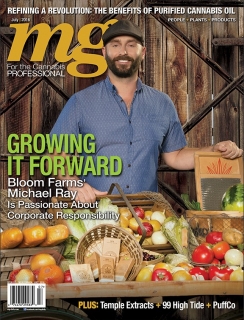 MICHAEL RAY
"We are on the forefront of the change in social perception cannabis."
"The community I grew up in has been propped up by the cannabis industry since the 60s."
"I found my to NYC and took a job as the first round of day traders. This was a new industry with a bunch of punk kids. I was 19. The first internet tech bubble happened then."
"The passage of Prop. 64 was the most exciting movement in the cannabis industry."
"Consumers who were afraid of the industry are now opening up in the industry."
"The most recent relief from the current administration is that they were going to take a step back from the states that have legalization. But it's still scary for sure."
"California is a fluid situation. Technically speaking January 1st, 2018 adult use will be legal. It will roll out throughout the state in different locales once they get their own regulations together."
"Historically speaking all of the branding and messaging around cannabis was medical relief and trying to get as messed up as possible for as cheap as possible. For us, it was about health and wellness and combining cannabis with being active."
"I was probably one of the first skeptics about medical marijuana until I started to learn and meet the patients and growers and doctors."
"The lack of access to banking and credit lines is extremely challenging and dangerous. The cannabis industry is working in cash."
"Technology is helping things run smoothly and easier. Also the ability to have to access to personal vaporizers. It was all about smoking or eating cannabis before."
Comments
comments