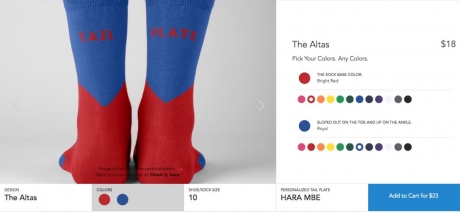 Following the big successes of Netflix, Airbnb, and Lyft, the sharing and rental model is causing disruption in more niche industries, such as shaving products, LEGOS, and even women's apparel—a $120 billion industry alone. While there are already women's apparel and rental subscription services on the market, only one has successfully targeted the 70% of American women sizes 10 to 32, and that's Gwynnie Bee. Sizes 14 and up are considered to be a $22 billion market—one in which teens account for 34% of sales. With Gwynnie Bee, the opportunity to have a rotating wardrobe has not only given women more flexibility in their fashion, but it's also giving manufacturers a huge uptick in distribution with a built-in customer base. Sitting down today to discuss how she disrupted the size 10 to 32 $17 billion industry using a Netflix rental model is Christine Hunsicker.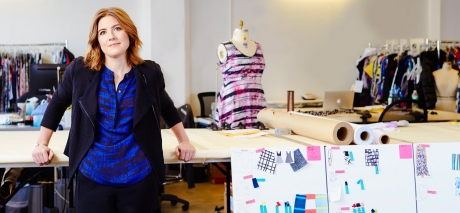 CHRISTINE HUNSICKER
"I grew up in rural Pennsylvania where there were more cows than people. I focused on athletics then got into Princeton."
"I've been in the startup space since 2001. This is my first B2C."
"I didn't come into this space thinking apparel was the place to go. I used data and market research to get here."
"We had 20 people working out of NY apartment when we first started. From 6am to 2am different shifts of people at different times."
"We started with an office in NY, Dehli, and Palo Alto and all were run out of people's apartments."
"Fundraising, setting up the vision, and the strategy and hiring are the things I spend my day on."
"It's always a struggle to make sure I'm carving out enough time for hiring new people."
"We decided to focus on sizes 10-32 because it was untapped dollars in wallets."
"On the straight size (0-14) everyone's fighting for that model. It's overcrowded."
"The core problem in retail is ownership. It puts risk on the supply side."
"The typical plan is 3 at a time which means three items at home at anytime. Just like Netflix."
"The average customer cycles through about 9 items a month for about $100. We launch about 12 new items everyday."
"We went in saying there's a problem in retail, here's our approach to solving it. We hooked them on the core tech and marketplace."
"Approaching investors to meet them where they are is core to delivering the best pitch."
"Designers don't want to manufacture plus size clothing because of the tech fit. It's a different skill set. There's a skill gap."
"If there's receptivity from designers to go into plus size, we help them."
"Outwear is not meant to be cleaned every two weeks. We put our clothes through 7-9 washes per season."
"Lifetime has made 30 gifs of my facial expressions from Project Runway: Fashion Startup."
"My first subscription box we sent was more mature brands. We hand walked it to the UPS and I got to place it on the truck."
"The first job I got paid for was a soccer referee. It paid really well. $200 over a weekend in the late 80s."
"The first dress I shared with family members was a Strawberry Shortcake dress. Very country chic."
"A junior partner wanted me to change my clothing before a meeting. It's a typical response you get from men."
"I have a lot of quirky parts to my personality."
---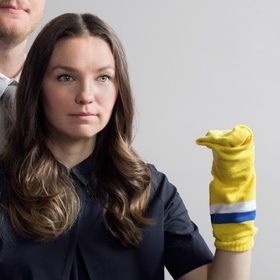 Veronica Harbick is the co-founder and CEO of Thursday Finest, a 3D-printed custom knitware apparel company which prints clothing in minutes. Launched in 2016, Thursday Finest uses 3D-knitting robots and proprietary tech to make custom apparel at scale. Their first four products – socks, hats, scarves and neckties – are made on demand in Brooklyn, in custom styles, colors and granular sizes. They also opened the first pop-up shop that made custom knitwear for customers in-store in minutes.
"My background is in branding and advertising. I'd see consumer reactions to those products."
"In the shopping experience, so many things don't fit personality or style. It's a pain point."
"We found 3D knitting in Japan. We use yarn."
"Sweaters are traditionally made flat panel so it takes a lot of time but creates a lot of waste."
"Our socks are fully seamless and feet shaped. There contoured to your foot and shoe size."
"We do a lot of work ahead of time so when you come to our pop up store you get to see it work."
"My husband and I, who started the company, got to go for a month to Japan to get trained. It was intense."
"We're working toward custom clothing made just for you that can be made in your home."
"There's 3D printing for leather, fake fur, food."
"The challenge is creating sustainable textiles."
"The customer service and human touches need to be done by hand. Everything is fully made in Brooklyn."
"This tech has been around for 15 years. Labor was cheap then, now more manufacturing is coming back to the US. We're training people in 3D knitting."
"We launched reversible hats you can wear 4 different ways. More sustainability."
"We hold no inventory. Our inventory is cones of yarn and it only has to be a few cones. We don't have to predict trends."
"Seamless socks were our second product to launch. They were the first things people asked for."
"When I moved to the US, the only things I knew to say were 'hello,' 'goodbye,' 'I love you,' and 'thank you.'
"Whenever you don't know the person or it's someone from a company that you value orders from us it's such a great feeling."
"We cater to the robots in the office. But we're staffing in other areas like marketing and design."
"Our most popular socks are 'zero fucks' socks."
Join Dot Complicated next Wednesday when Tina Yip joins the show to discuss the side hustle generation! Only on SiriusXM Business Channel 111 at 12pm ET/9am PT!
Comments
comments