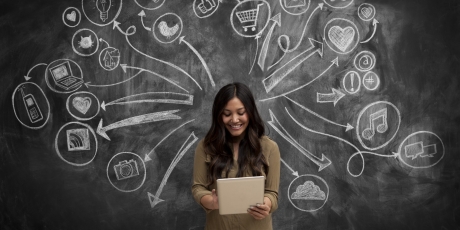 Imagine you could turn your lifestyle blog into a steady income that eventually allows you to quit your day job. It might be the ultimate dream but there's no easy path to get there. Out of the estimated 70 million blogs out there today, 95% are abandoned and more than half aren't bringing in any revenue whatsoever—yet, according to Technorati's State of the Blogosphere 2015, blogs outrank social networks for consumer influence and opinions. While there are bloggers who work full time and earn extra money on the side, there are also huge success stories, like Julie Powell's blog that was turned into a book that was made into the movie "Julie and Julia." Or like Lisa Sugar, founder of PopSugar, who turned her celebrity blog into a lifestyle media brand.  Today on 'Dot Complicated with Randi Zuckerberg' we discussed what turns a blog into a successful business.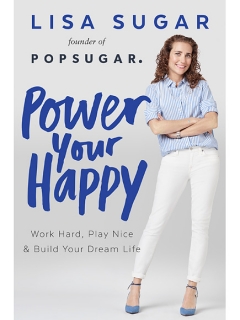 LISA SUGAR: 
"If you want to test something and share it with the world—power your happy and do it."
"I was writing in a conversational friendly tone and people loved it. 6 months later I quit my job to go all in.
"We write about everything, fashion, living, parenting. Everything from Game of Thrones to 5 minute workouts—PopSugar runs the gamut."
"Everything out there was mean and snarky or matter of fact. I wanted to have fun and promote people."
"The Brad and Angelina news was so big when we started and here it is again."
"People care a little less about celebrities walking down the street and more about their projects and what they're doing."
"We've remained what we were from the beginning. It makes people feel good and they want more of it."
"We follow PopSugar Principals and veer away from click-bait."
"We have a lot of training and have a basis of what the PopSugar voice is. At the end of the day we know what resonates."
"There's such an extensive process to get hired. We do twice a year training and look at words that work, words that need to be retired."
"We always look at what's resonating. It's an ever evolving process."
"I started the company with our husband and our daughter came the first 3 years. We hired a lot of friends at first and created a fun workplace."
"I've been doing this for 10 years now. I keep getting asked why I did it and how do I sustain it, so I decided to write a book."
"The best part about it was writing the outline. We met with a lot of different folks who asked questions that helped the outline grow."
"Writing the book was a lot faster than I thought it would be. Now is the slow part."
"Power your happy means doing what you love everyday, even if it's a hobby."
"Anything outside that powers my happy is spending time with my family."
"Figure out things you do like at your current job. There were things I loved in advertising but I knew I didn't want to do it forever."
"How can you take a small step in another direction and get to where you want to be?"
"You can always take life skills away from different jobs. I asked to be involved in inventory folding jeans at Urban Outfitters."
"I'm constantly inspired by Beyonce who controls her image but is totally relatable."
"Power Your Happy is the story of PopSugar and how to figure out what you want to do for the rest of your life."
"Starting small is really important. Create an online persona first and build up a personality people gravitate towards."
"When you build your audience you have a focus group that you can learn off of."
"Being able to showcase your energy and experience will make people gravitate to you."
"Find something that makes you interested."
"Connecting can range in so many different things. You can connect people in special ways."
"Know your target audience and how to find them."
"We've always been a very brand-friendly site. Companies feel safe working with us."
"When we got married I never thought I'd work with my husband. We do different parts of the business but it's great when we're together."
"The hardest thing is deciding what's for dinner at night. We've made so many decisions during the day."
"There are times when the only conversation my husband and I have together are through text."
"Consistency is important. People need to know new content is coming regularly otherwise an investor is not going to invest."
"What point of view are you bringing and what sort of stuff are you bringing that's new from what's out there?"
"We launched our career and finance channel. We've been supplying advice for year but we decided to branch out its own vertical."
"You have to start small. If you set small goals you can get further. One thing a day to knock off your list will make you feel more accomplished."
"Everyday I do pinch myself because I love my job. But I can't believe I wrote a book!"
"Surrounding yourself with a great team is critical."
"We had people writing stories before we could ever pay them. Find people who agree with your vision then promise them later on that you can make it worth their while."
"The best advice I ever got was from my dad to do what I love. Everything else comes later."
"I always say work hard and play nice. Hopefully the work is effortless and fun."
"I believe in karma, you can be badass without being bitchy."
"There's so many life skills I've learned just from interacting with people. There's such a takeaway."
"We want to inspire people to do more of what they love everyday."
Tune into 'Dot Complicated with Randi Zuckerberg' every Wednesday at 12pm ET/9am PT on SiriusXM Business Channel 111!
Comments
comments