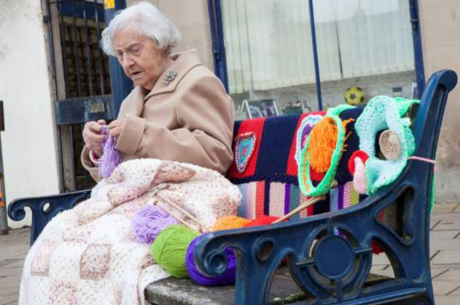 Take that Banksy! 104-year-old great-grandmother Grace Brett just may be the oldest living street artist having "yarn bombed" various benches, phone booths, walls, and other landmarks in her town in the Scottish county of Borders.
Born in London in 1910, and having worked as a telephone operator, before moving to Scotland in 1978, Grace Brett has now inspired a new generation of guerilla knitters known as the Souter Stormers. This secretive group of 'yarnstormers' of various-aged knitters use their knitting skills to "transform the Selkirk landscape," said Kay Ross, a spokeswoman for the Souter Stormers group.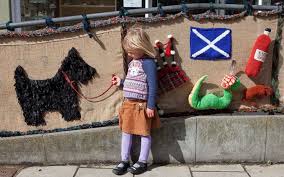 The group yarn-bombed the towns of Selkirk, Ettrickbridge, and Yarrow in Scotland, all as part of the towns' festivals. Yet if they have grievances in the town, they take up their issues using yarn.
The Stormers decorated a statue of Sir Walter Scott, as well as an iconic red phone box.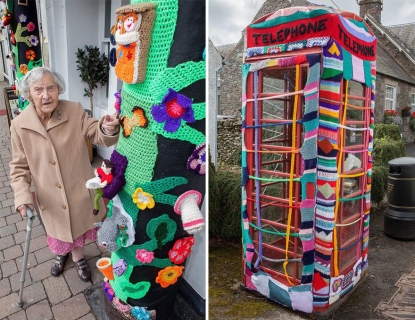 Grace told Press and Journal, "I thought it was a really good idea to decorate the town and enjoyed having my crochet included,"  "I liked seeing my work showing with everyone else and thought the town looked lovely."
Grace's daughter Daphne, 74, said, "she has always knitted and crocheted all through her life. She has always done all the knitting for the babies and made shawls."
Brett has six grandchildren and 14 great-grandchildren and is still knitting today.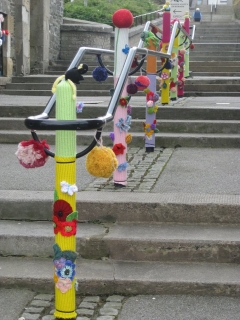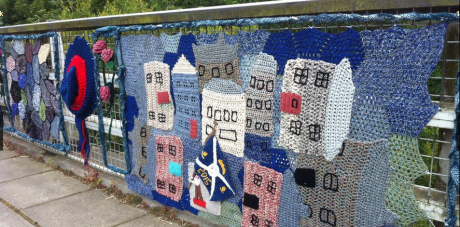 Comments
comments