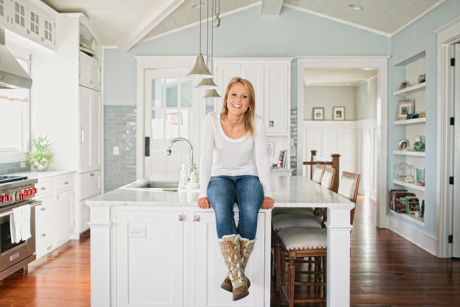 If you're a female entrepreneur in today's world, you know it's an uphill battle. Being underestimated and overlooked is part of the game, and sometimes all you have is your own determination to bank on. I've been there. I'm a female entrepreneur in the male-dominated building and construction industry.
But not only did I do it, I did it big — I own a successful multimillion dollar custom home building business on the east coast. I did it with passion, hard work, drive, innovation, and collaboration – so much so that even HGTV took notice and decided to film a pilot show about my work. But more on that later.
My path to get here wasn't easy. Growing up, I often found to ways to break through the barriers and find innovative ways around the rules. For example, when I was in 6th grade, I wanted to play soccer. But there was just one problem: There was no girls soccer team. So I found a way to break through the barrier — I tried out for the boys team — and made it.
I grew up in a family of builders. My dad was a builder and I followed him around a lot — picking up trash, sweeping out houses, organizing lumber. I got to know construction from the ground up, which is the best way to learn it.
After I graduated college, I got paid $11/hour as a real estate assistant, where I got to visit the kind of houses I never knew existed—gorgeous, sunlit summer homes that made my jaw drop. I decided I needed one of those. Bad. I would do whatever it took.
So for two solid years, I worked odd jobs and ate peanut butter sandwiches (jelly was a luxury I couldn't afford), saved every penny, and then stayed up late to study the market trends, the data — just waiting for my chance to buy into the market. And I found it: A tiny, tired looking bungalow that resembled a teepee, and inside, brown paneling, harvest gold appliances, slanted walls, green shag carpet. I bought it for $240,000. It was a total fixer-upper, and I maxed out every card to buy it and rebuild it myself. My dad said, "You're crazy." I told him I'd prove him wrong.
Nine months later, I sold that house for $350,000. I reinvested that money right away. From there I was hooked.
I launched my custom home building business in 2007…which also happened to be the year of the worst housing crash in U.S. history. Just my luck! I couldn't afford to hire many workers, so I did a lot of the building myself. Everyone thought I was nuts.
Despite my hard work, I was quite often doubted, disregarded, overlooked. Let's face it: I was a woman in her 20s, built like a ballerina in a business completely dominated by dudes. I can't tell you the number of times people approached me on job sites to ask me, "Where's your dad, sweetheart?" and "Are you the decorator?" So I worked really hard to create meticulous plans when bidding for new business. My lowest point came when I found out prospects were taking my bids to competing builders instead. I almost gave up.
If no one would accept my bids for business, I was going to have to start bidding on myself. Which is exactly what I did.
I built a new home – but this time, I designed it myself, instead of using an architect's design. It was stunning: It had a custom oversized front door, wide-plank wood flooring, impeccable interior trim details, 8′ solid wood doors, cathedral ceilings with exposed beams, a sea glass palette. When you walked in the door, the ocean was the first thing you saw, and an inverted floor plan let you view it from the kitchen as well. It was bright, airy, fresh, with a big front porch and a rooftop deck.
When the house was finished, I invited the entire neighborhood over for a big summer blowout. Four-hundred showed—and that's where everything changed.
After that day, word spread like wildfire. I got referral after referral. I didn't even have to submit bids anymore; business was coming to me. And the best part? They didn't just want me to build the home; they wanted me to design it, too.
Here's what else set me apart from the pack and helped launch the innovative success behind Marnie Custom Homes:
I earned my MBA from Duke University.
I started using energy-efficient practices.
I began using reclaimed and recycled material to add character and make my clients' homes unique.
I built one of the first 95 percent American-made homes in the country, using equipment and materials sourced domestically.
To date, I have 41 homes under my belt and a thriving business, and the respect of my (mostly male) colleagues. I've won numerous homebuilding and entrepreneurial awards. I'm proud to say we've been at the forefront of innovation since I started the company in 2007. Our innovative use of materials, impeccable craftsmanship, design sense, and unparalleled work ethic have earned Marnie Custom Homes a thriving and award-winning business and has kept us on the cutting edge of competitive custom home building in Delaware. We continue to revolutionize the industry with our fresh approach to established and innovative building practices and processes. I couldn't be more proud.
And now I'm embarking on my greatest adventure yet — my own network TV show based on my business. "Big Beach Builds" on HGTV centers on my journey making outdated beach homes a new work of art. It's hard to overlook and dismiss any entrepreneur who is nationally recognized for her success in the industry, no matter her gender. I'm so excited to share my process with a national audience, and hope that other female entrepreneurs are inspired by my story to take that leap of faith and bet on themselves to win.
To learn more about Marnie, go to www.marnieinc.com
Comments
comments