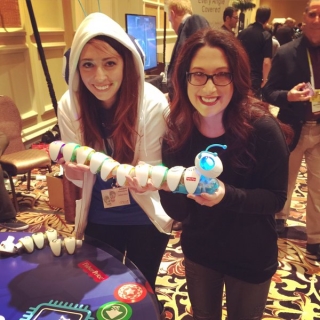 I was thrilled to attend CES in Las Vegas this past week in a few capacities: As radio host of "Dot Complicated with Randi Zuckerberg" on SiriusXM, as judge and co-emcee of The Bump Best of Baby Tech Awards Show, as co-host of a lively karaoke party with AmpMe (an app that synchs the same song across your friends' phones, turning everyone's phones into one giant speaker!) and as tech collaborator with HSN (who I learned is the 3rd largest seller of tablets!) Yes, that's a lot of different hats. But what I loved about approaching CES this way, (and honestly, approaching my entire life this way!) is that it gave me a unique ability to take a look at the year's largest technology showcase from several different perspectives:
Originally posted at TechCrunch
1) XX stands for consumer power. And everyone is listening.
When I first started coming to CES years ago, if you saw another woman (a rare sight indeed!), the immediate assumption was that she was a publicist, or (gasp!) a "booth babe." So you could imagine my delight to see a huge increase in the presence of the XX chromosome this year. It was extremely eye-opening to be at CES with HSN, a network and retailer that knows and understands women's consumer desires better than anyone else out there, and get an inside perspective into how important technology is for their female customers of all ages and all early-and-late-adopter profiles. While there is still a very long way to go before we achieve true gender parity in the tech industry, it was evident that the massive consumer power of women is recognized across the board.
2) It's exciting… even dare I say "cool"… to work in the automotive industry again!
Everyone was buzzing about cars. From autonomous cars. Artificial Intelligence in cars. Hydrogen power for cars. Cars that can wirelessly charge themselves and the cars around them. I did live broadcasts of my SiriusXM show from the Chrysler/Fiat booth and the Toyota booth where Jim Pisz, a Toyota executive, joined the panel to discuss Toyota's concept cars and investments into AI and hydrogen. You could feel the palpable excitement in the air. When was the last time you could say that about the automotive industry?
3) Baby Tech
What happens when an entire generation of entrepreneurs and inventors—with access to capital, data, and engineering talent—all have babies at the same time? You get the rise of BabyTech. Two of my favorites were Mimo (a baby monitor built into a onesie) and Code-a-Pillar (a caterpillar toy from Fisher-Price that comes with different attachments for a young child to program). I expect to see much more in this space in the years to come. Especially since we still don't have diapering robots and self-driving strollers yet…..
4) Audio will be the next frontier of innovation.
While there have been huge innovations on the visual frontier with camera technology, virtual reality, and selfie drones, the audio department really seems to be lagging behind. A well-known VR/AR blogger told me that the number one place VR is getting stuck is in the audio department. Speakers on our smartphones seem to be going, well, backwards. Can anyone else barely hear out of their iPhone 6 without headphones? Apps like AmpMe and digital sound systems like Clarion's aim to cure the audio woes.
5) There is a HUGE market for campy products.
From the Sensorwake, which emits the smell of fresh baked croissants in the morning, to the Ripple Maker, which allows you to print photos from your photo library onto a latte, I was delighted to say that delight itself was a huge business trend at CES.
6) Caution note to budding inventors: Entrepreneurs need to make sure they are solving problems that are ACTUALLY problems.
A laundry machine that saves me 15 minutes on my laundry time is great but it isn't exactly a problem that keeps me up at night. A fridge that orders my eggs for me or a scale that tweets out my weight left me asking, I couldn't stop myself from asking, "Do I actually need this? Does anybody?" As an entrepreneur, don't try to solve problems that aren't really problems.
7) Tech is as Dot Complicated as ever.
As tech advances more and more, morals and values become more complicated. What happens when a self-driving car has to make a difficult ethical decision? Can a smarthome get hacked? The world is increasingly Dot Complicated, which means that as consumers, we need to get smarter about our tech consumption and our data and truly understand the opportunities and potential costs of any new innovation we try.
Don't forget to read my book Dot Complicated" and listen to my weekly radio show, "Dot Complicated with Randi Zuckerberg," on SiriusXM Business Channel 111 at 12pm ET/9am PT.
Comments
comments