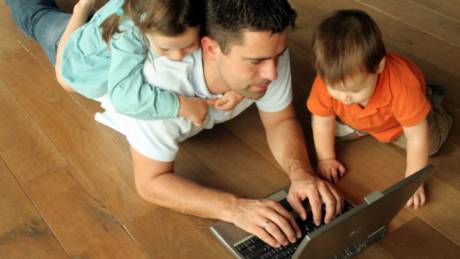 With tech growing at an exponential rate, being a digital immigrant is no easy feat. Dr. Yalda Uhls is a researcher, Director at Common Sense Media, and she's the author of Media Moms & Digital Dads: A Fact, Not Fear Approach to Parenting in the Digital Age.
Today Yalda's addressed the challenges and benefits of raising digital natives:
"My job as a researcher is to see the ramifications for kids."
"I wanted kids. I had a great job, but it's a challenging life to be studio exec and be a mom."
"The kinds of movies that studios make are meant to appeal to teenage boys. They're the most enthusiastic and hard to get out the house though."
"I got an MBA when I was 24. So I was there when I was 24 and when I was 40."
"If you want to go to school when you're older, go for it!"
"There is no difference between a Digital Immigrant and a Digital Native."
"You are a Digital Native if you were born after 1980."
"Now there's the Mobile Generation born after 2007 when the iPhone changed the world."
"Having kids and studying child psychology was a plus because I could see it first hand."
"Digital Immigrants refers to anyone who was born with tech evolving in their life."
"Digital Native is someone born with tech."
"The internet is a culture, it's another place."
"Facebook is the second largest country in the world."
"Tech is a whole different language you need to learn."
"Common Sense Media has been around since 2003. They have 25,000 plus rating across all sorts of media: books, TV, films."
"I'm sensitive to ratings, coming from the film business."
"Sanity not censorship is the Common Sense Media motto."
"I launched the Common Sense Media office in LA."
"I focus primarily on the outreach to the entertainment industry."
"I felt like the books that are out there were fear-based.
"The media always jumps on the scariest story."
"Social media strategists did not happen years ago. If kids don't know tech they're going to be left behind."
"There are three different kinds of parenting: Head in the Sand, the Drone Parent, then the Media Mom and Digital Dad."
"Men, Women, and Children is a great film about parents reacting to tech."
"Media Mom and Digital Dads are helping their kids learn."
"It's not important to remember and know every single app and button, it's more important to keep the lines of communication open and be a good role model."
"Q: What is the biggest influence on the number of hours kids watch TV? A: Amount of TV parents watch."
"There is strong correlation between parents' behavior and their kids' behavior."
"Q: At what age do children learn to drive? A: 5. They are watching you drive. They are learning the behaviors."
"When I wrote the chapter on mobile I was surprised that the iPhone was introduced in 2007. To me it feels so much part of our lives."
"The iPhone hasn't even been around 10 years and it's already been so influential in our lives."
"The average age of female gamers is 35."
"All over the country, usually kids spend a 2-3 day field trip with their classes. I found a class that worked with me to say no screens allowed."
"There average use of media for 6th graders on 5 day field trip was 4 ½ hours a day.
"The ability to read non-verbal cues after 5 days of no screens improved their ability to read non-verbal cues."
"The more time we allow to have that kind of activity in our lives, the more we will be able to adapt to real-world situations."
"When you look at the research they found video games are excellent for spatial learning. It underlines STEM learning as well."
"Traditionally men have tested higher on spatial learning. If you give girls video games, they got better at spatial learning almost to the level of boys."
"I looked up images of girls playing video games and found such unappealing photos."
"I believe in the power of pop culture media to help create change."
"Three months of using a STEM math app every night showed an increase in math skills beyond what school could do."
"Minecraft helps develop social skills. These technologies were developed by introverts."
"I feel more comfortable interacting by screens sometimes."
"It's unrealistic for all of us to take 5 days without screens, but even a few minutes without screens makes a difference."
"Narrate for your child that you are taking away devices and screens and why so they start thinking about it as habit."
"When kids talk to you while you're emailing, narrate that you are finishing then putting down your device."
Join 'Dot Complicated with Randi Zuckerberg' next week when she sits down with the creator of the Flying Robot Film Festival, Eddie Codel, to discuss drones. Only on SiriusXM Business Channel 111 at 12pm ET/9am PT.
Comments
comments