Investor, serial entrepreneur, and author of The Path Redefined, Lauren Maillian is one busy woman.
So how does she do it all? Apps.
Here are Lauren's Top 5 favorite organizational apps to keep  a steady work / life / parenting balance:
Slack—(Free; iOS & Android) Slack provides real-time messaging, email threads communication to ensure efficiency. I use it to keep everybody on the same page at all times.
Chase—(Free; iOS & Android) I bank other places but Chase for mobile banking is really important. Being able to pay as a mobile vendor is crucial. I don't outsource any of my own accounting.
Delta—(Free; iOS & Android) I am a Delta girl. I use this app to check in early, see if I'm confirmed, or check my Skymiles. I like to check my upgrades before arrival since maximizing time is important.
Keynote—($9.99 iOS;  Free Android Version) Share presentations or change presentations on the go. Powerpoint  usually just uses .pdfs. This allows you to change parts of the presentation on your mobile. I don't even really carry my laptop anymore, I do it all from my phone.
Trip It—(Free; iOS & Android) This mobile travel planner keeps all of my travel in one place. My rental, my hotel, my flight is compiled into one easy itinerary. I don't have print out anything anymore. The most awesome thing about Trip It is it tracks how many days you spent in every state for taxes at the end of the year. So if you were traveling to low state tax places, you may have just saved yourself a boat load of cash!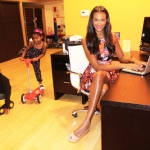 If you want to read more about Lauren Maillian, follow her HERE.
Comments
comments