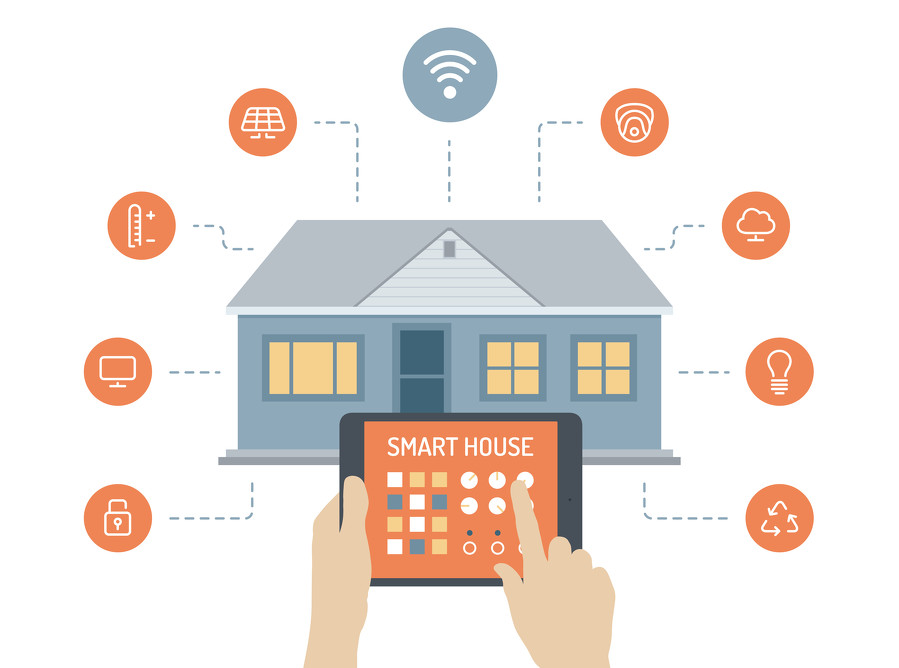 Sears Connected Solutions is simplifying the way people shop for their connected home by creating an environment that allows members to see how smart technology can solve problems, save money and make life easier.
Connected Solutions is organized in the following four categories in-store and online:

Simply Entertaining (smart TVs, Tablets, Mobile Phones, streaming media players, Bluetooth speakers) – Music and television have never been so connected and controllable throughout the home. Discover the ultimate entertainment experience with Smart TVs, Bluetooth speakers and streaming media players or watch your choice of movies or TV shows anywhere on your tablets or smartphone. Sears offers mobile phone service and data plans from carriers with flexible, no-commitment options.
Simply Fit (fitness trackers, connected scales, connected treadmills) – For members looking to track and monitor their steps and sleep habits or get motivated to be active. From connecting your wearable fitness tracker to your bathroom scale or at-home gym equipment, Sears offers a variety of solutions to help achieve your fitness goals.
Simply Automated (connected garage door openers, thermostats, electrical plugs, and small kitchen appliances) – Whether at work or at play, our members can experience how to use their smartphone as a remote to automate and control lights, electronics and appliances in their home.
Simply Secure (connected home security cameras and baby monitors) – From checking in on children or pets through innovative home monitoring solutions to receiving alerts from smoke alarms and doorbells, Sears offers the care and security solutions to give you peace of mind.
Favorite Products:
Sears Connected Solutions CMO Kelly McGann's favorite connected product? Ring Video Doorbell: As a working mom, I love the peace of mind I get from receiving video alerts when my daughter arrives home safely from school and when packages are delivered.
Staff favorites:
Craftsman AssureLink™ Garage Door Opener Smartphone Control Kit  – This smart garage door controller lets you control your garage door from anywhere so you'll never have to worry about whether you closed it again.
Veridian Healthcare iBaby Baby Advanced Home Monitoring System – With this baby monitor, you can hear and see your loved one from anywhere and it automatically takes pictures whenever your baby moves, providing peace of mind.
Honeywell Lyric™ Thermostat – Control your home's temperature from anywhere in the house with the Honeywell Lyric Thermostat. It helps you save money and provides added comfort by automatically regulating the temperature while you're away. For example, it detects when you're on your way home and automatically lowers the temperature.
Mr. Coffee Smart Original Brew 10-Cup Programmable Coffee Maker with WeMo – Easily set up a weekly schedule on this smart coffee maker from your smartphone. Sleeping in? You can quickly adjust the brew time so you always have a fresh cup of coffee ready for you.
Crock-Pot 6 Qt. Smart Slow Cooker with WeMo – This connected crock-pot lets you adjust cook settings from anywhere with a smartphone. That means you can keep on shopping, working or playing for as long as you want and dinner will be ready when you get home.
Roku 3 Streaming Player – This is really the ultimate streaming player. With just an Internet connection, you can get access to 250,000+ movies and TV episodes – without cable.
Mipow PLAYBULB – This light bulb is also a premium Bluetooth speaker so you can control light and sound from your smartphone. It's ideal for creating the perfect environment in areas of the home that can't accommodate bulky speaker systems.
Fitbit Flex Black – Wireless Activity + Sleep Wristband – Wearable fitness trackers provide motivation to get in shape. It's fun and easy to get the whole family involved in a friendly challenge to see who can get the most exercise. In addition to logging movement and calories, the Fitbit Flex Activity and Sleep bracelet tracks your sleep cycle so you can work on improving your sleep.
Withings Wireless Blood Pressure Monitor – You don't need to go to the doctor's office or drugstore anymore to keep tabs on your blood pressure. This wireless blood pressure monitor works with your smartphone or tablet so you can take your blood pressure from home and it even stores all your readings.
Find out more about Sears Connected Solutions HERE and learn about the latest home automation gadgets straight from IFA Berlin tomorrow on 'Randi Zuckerberg's Dot Complicated' with special guest Jeremy Kaplan of Digital Trends. Only at 12pm ET/9am PT on SiriusXM Business Channel 111.
Comments
comments