With summer in full swing, many parents are using Pinterest to discover endless ideas on how to keep their kids engaged and learning over the summer. In fact, people pin more than 500,000 education-related pins every day.
Productive activities such as science experiments, reading lists, and outdoor crafts not only keep children entertained, but also help ensure that they jump right back into their studies in the fall.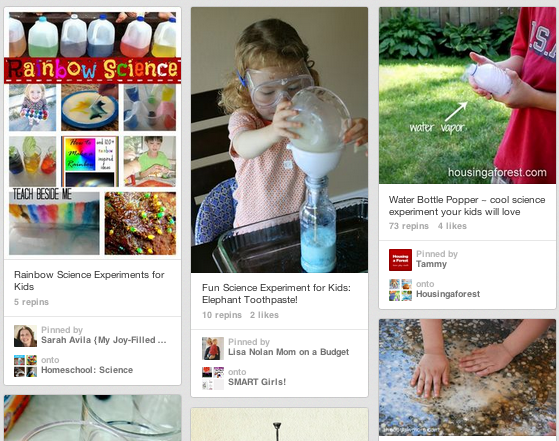 We interviewed Denver mom of two, Melissa Taylor, who has amassed over 1 million Pinterest followers and literally wrote the book on Pinterest ("Pinterest Savvy"). Melissa also blogs at Imagination Soup, where she writes about creative and educational activities for kids.
How did you get into using Pinterest so actively?
Initially, I created an account to see what all the buzz was about. It didn't take long before I was using it actively to curate the best ideas from the web for my kids – and my followers' kids.
And let's be honest, glancing at an image makes finding high-quality content quick and easy compared with scanning blog post titles in a search or my RSS feed. What's not to love about that?
People have many different uses for Pinterest. How do you use it?
Pinterest allows me to curate content for my readers who value similar learning and education topics. But, Pinterest is also a resource for me and for my kids, too. In fact, my kids and their babysitter use my boards to get "what-to-do-right-now" activity ideas all the time.
How can parents use Pinterest as a resource? 
Pinterest has so much free content on every topic imaginable – it's easy to use it as a resource for whatever you're looking for – be it spelling activities, book ideas, after-school snack suggestions, anything. Parents can use the search function in Pinterest; it works okay for finding pins or boards. But I pin from regular Google searches as well. Parents can repin the best of what they find on the web to their own boards.
Also, if you follow excellent pinners who pin content aligned to your interests, you'll find good ideas in your own feed all the time.
How much work does it take for a parent to maintain or grow their Pinterest?
I don't think parents need to grow their Pinterest followings – it's too hard with so many users, especially if you don't have a blog of your own. I wouldn't worry about that as a goal. If you're trying to grow the number of pins on your boards, do it a little each day and make it fun.
What's the most creative activity you've pinned?
These were my most popular pins:
How To Make A Spiral Bound Book – A short video
Trace Hands Self Portrait
Most educational?
Use Speech Bubbles On Famous Paintings To Get Kids Thinking
Basic Preposition Vocabulary Practice
What should parents NOT do on Pinterest?
Before you repin something, click through to the link to be sure it's not porn, spam, or a dead-end. For example, I recently saw a Despicable Me cupcakes pin that went to a porn site. I commented to tell the pinner, but some pinners don't read their comments, so who knows if she deleted it.
How can parents inspire their kids to want to learn during the summer?
We have to make learning fun – and playful. I love helping parents with this (which is why I write at ImaginationSoup.net) – because I have to do it with my own kids, too.  Pinterest allows us to crow-source all of these great make-learning-fun ideas. I love that!
10 Pinterest Tips For Parents This Summer:
Search for your child's upcoming grade to challenge them over the summer (for example: kindergarten, second grade, sixth grade, eighth grade science projects).

Come across a pinner you'd like to follow? Click "Follow All" on their profile page to get updates from all of their boards in your home feed. Or you can choose to follow individual boards.

Get inspired by browsing through the Education category.

Create individual boards for each child to make it easy to jump to ideas.

Find a pin you want to share with another parent? Click "Send" after clicking on the pin, to share privately.

Come across a pin you like and want to see others like it? Scroll down below the pin to see other boards the pin is "also pinned to", and "people who pinned this also pinned".

Interested in seeing all of the pins from a specific source, such as a blog or organization? Just edit the URL and add the website: http://pinterest.com/source/NameOfWebsite.com/. For example, you can search for content pinned from Scholastic by going to: http://pinterest.com/source/scholastic.com/
How do you use Pinterest? Tell us in the comments below!
Comments
comments