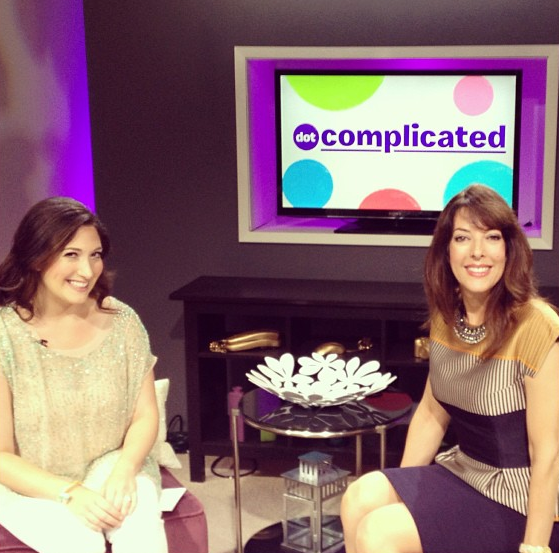 A few weeks ago, we hosted Leslie Blodgett, Creator of bareMinerals, in our Dot Complicated studio for a live, televised interview with our CEO, Randi Zuckerberg. We loved meeting Leslie – she's an extremely warm, genuine woman with a lot of career insights. Here are some key thoughts from their discussion.
Watch the full video here: 
Randi Zuckerberg: You launched bareMinerals in 1995, which completely revolutionized the beauty industry, you've empowered so many women, and you were recently named entrepreneur of the decade. A little known fact about you is that your first job was at McDonalds! Tell me about that.
Leslie Blodgett:  I loved that job. I wanted to work my way up to cooking, but the guys were the ones who were the cooks! They put the cute girls (I was cute back then) in the front to sell, but I wanted to make the burgers. I was working my way up even back then. I learned how to apply eye shadow from a co-worker at McDonalds, back in the 1970s. It was an ombre effect, a lilac and a plum, and I put the lilac in the first half and the plum in the second half and blended it in the center. I still do that technique. So that was part of the beginning of my love for makeup.
RZ: You just had a big announcement that you're taking some time off. What's on the horizon for you?
LB: I'm taking a few months off just to see what it's like. I realized that I've been working since I could legally do it, and even before that I was working. When I was at college at FIT  in New York City, where I studied cosmetic marketing, I had 6 different jobs. And, when Trent was born (I have a twenty year old son), I was interviewing to move from Maryland to LA for a brand new job, so I've just been constantly working. So I'm learning how to listen to music again, how to read again, meeting authors, going to book signings… I don't know! When you don't have the time, you don't think about what it is you want to do, and when you have the time, you're just scurrying to figure it out. I'm really enjoying myself. My son is living at home right now, and because I wasn't home a lot when he was growing up, I'm  actually having the most amazing time being a mother, even though he's twenty.
RZ: I think part of your secret is how approachable and relatable you are. I know you've said that you get thousands of emails from women, and you try to answer them all. Why do you think more business leaders don't do that?
LB: I'm so glad you asked me that; that's one of the things about being on sabbatical – I'm remembering stuff that I must have blocked out. I think I have what I'm going to call 'hyperactive empathy gene.' I think empathy is a beautiful thing and I think everyone needs some of it. But I really believe mine is overactive.
I put myself in every woman's shoes that I met when we were getting started. I felt their pain and I wanted to help them so much. It was almost crippling for a while. I would stop everything, everyone at the company would get the letters, we would read them, we would cry together, and I would bring them home… I really felt like I had to help solve these problems.
If you don't like your skin, you've got acne, you've got breakouts, and even if no one else sees it you feel it. If you don't like yourself, it will impact everything about your life, the decisions you make, the people you meet, the things you do. I felt responsible for making these women feel better about themselves through good skin – that's all I knew. I really just wanted to help them so much, and when you get bigger [as a company] it's hard to help everybody. That's when you have to realize that some days are good and some days are bad. The days that were bad were the days I realized I can't make everyone happy. And you just have to learn how to deal with that. You can't take that personally. But I really believe that you have to have empathy to be successful.
RZ: We were talking before about the crippling guilt that women in business feel; you've been a pioneer in so many ways, but one way you've really been a pioneer is in your marriage. As your career grew, your husband made the choice to be a stay-at-home husband.
LB: A year ago, when I gave an interview on this, I was still feeling guilty. I realized I was trying to be my mother; I didn't have any other role models. You girls today are lucky, you have the opportunity to meet women who are leaders and balancing careers. I didn't have much of that, so I was just trying to do what I saw everyone else doing, and I would just feel bad about it. My husband luckily loved what he was doing and never resented me or was envious.
RZ: It sounds like you guys were very logical about this. How did you have that conversation?
LB: Well listen, before you get married you better know what you want as a parent and as a spouse.
RZ: And some of it is about letting go of that control, too.
LB: For me,  I didn't get to go to the concerts and games, but I wanted to have meals with them when I was home. For me it was breakfast and dinner. I would send a videographer to all my son's lacrosse games and I have a stack of DVDs. I never watched the videos, but I wanted to make sure I had them. It's the little things for me, like baking cookies once a year at the holidays. But if your husband is not going to support you in your career, then you have to work that out. It's not gonna jive.
RZ: You've been a real advocate for real beauty, fighting against airbrushing and what not. Does it help your brand to take that stance? Is it difficult to compete in a world where everyone's airbrushed?
LB: I think the beauty industry can hurt women who are trying to find their identities. I think with the industry retouching so much, we never feel good about ourselves. And we're constantly looking in the mirror and obsessing about the little things that are wrong with us instead of looking in the mirror and  saying, "Wow, my lashes are really not that bad," or, "My lips are a nice shape." Half the models that they use don't look like that in real life. I think it's a shame. When I heard that a company that sells cellulite cream uses a 14-year-old model, as the leg model, to show what your skin would look like, that's just not fair, it's not nice.
I think there's aspirational, and there's inspirational. And if you can be a role model here, as a beauty company, and show that you're beautiful – you don't have to take off the freckle or the mole or the brown spot, or change their nose if it's not perfect – because beauty is a wide range. Don't let the cosmetic companies tell you what beauty is. That's what pisses me off. So a couple years ago, we did the blind casting, which I loved…
RZ: Can you explain what blind casting is?
LB: Yes! So we decided to do our first ad campaign, with models. Before that we brought in real people that sent us letters and they were the ones on the infomercial. Now, we were going to hire people and pay them to model, which was kinda against the grain for me a little bit. But what we did instead, is that we brought them in on the go-see, but we weren't looking at them, we were listening to them. We had them answer questions. And the ones we liked, as people, and if they sounded like we wanted to hang out with them, if they had good ideas, if they weren't all about vanity and themselves, had intelligence and were fun, we hired them.
We actually signed 5 people…signed them!…before seeing them. And they became our models. It was very stressful. I'm sweating just thinking about it. The risk is that they all look exactly the same and that they're all the same age. That would be weird because most of the people who are seeing it in the magazine don't know how we got the models. We know. It was really for us and we did a little campaign on it, but most of the people that saw these pictures didn't know how we got them. So what if they were all blonde, blue-eyed and 24-years old? That would be a bummer. But luckily we got quite the range. And I'm still in touch with these women. They're cool. So I feel good about that. And when the agency retouched the pictures, we had a big issue with them wanting to retouch them but that's what they were used to. We had to say,  "We like her nose, we like her eyebrows, we like her chin." We knew we needed to keep these people – whom we had met, heard and loved their stories – true all the way to the end. We feel good about that and that's why we are an inspirational brand. We need to be inspired at work, and then hopefully our customers will be inspired.
Comments
comments