Posted on 5/29/2013
Written by Liz Wassmann
The first thing any weight-loss specialist will tell you is to start tracking what you eat. When you keep a food diary and are presented with the proof of how much you eat in a day, it's easier to make realistic changes and see where you can cut out calories.
These days, there are a multitude of apps that help you count calories and stay on track with your diet. I tried using the first app featured, Lose It! for a week, and found myself constantly thinking about what I was eating. For me, using a calorie-tracking app made me obsessive about what I ate, and I beat myself up over and over if I went over my daily limit. I also didn't like having to pause my day and enter in the food item every time I had a snack.
RELATED: Qualifying Sleep
But for some, calorie-tracking apps can be a great way to buckle down and make some real changes in their lives. Use an app for a week to get a gauge on where your calories are really coming from or choose to make it a permanent part of your lifestyle. Here's a round-up of the best options out there: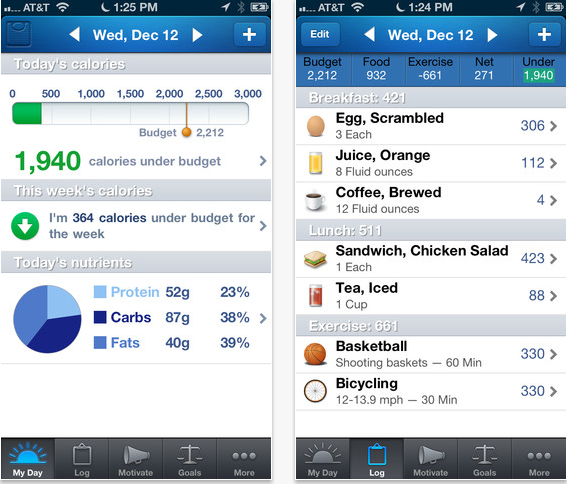 1) Lose It!
This app prompts you to set a goal weight and timeframe to achieve it. Then, it calculates a daily calorie limit to help you meet your goal based on your height, weight and sex. Every day, input your food and exercise and monitor how many calories you have left for the day. Lose It! also tracks the percentage of proteins, carbs and fats that you eat (free, Android, iOS).
My Fitness Pal is a social website and app that connects you with other members trying to be fit. The app features a huge food database to make it simple to find your food item, and recognizes your food preferences over time, making it increasingly easy to enter in meals and track calories the longer you use it (free, Android, iOS, Windows, Blackberry).
SEE ALSO: HAPIfork, A Fork That Yells At You For Overeating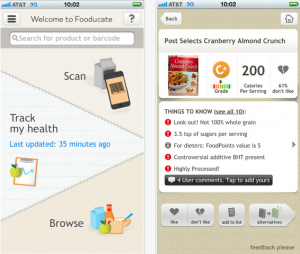 3) Fooducate
With Fooducate, you can easily see the nutritional content of the foods you eat everyday. The app assigns food items a grade, making it easy to see the healthier choice. You can browse pre-determined categories like best breakfast cereal or greek yogurt to find the most nutritional option. Pulling out the app at the supermarket takes the guesswork out of healthy shopping. Fooducate also lets you track your diet and fitness (free, iOS, Android).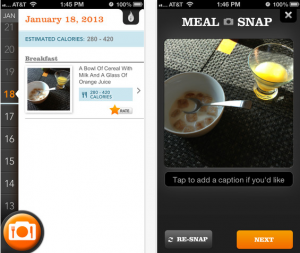 4) Meal Snap
This "magical" app estimates the calories in a meal based on a picture you upload. Simply take a picture of your food, upload it, and Meal Snap will tell you how many calories the item contains. Perfect for those who don't have the time or willpower to to type in their meals – although reviews say the calorie range is large and not always accurate. Still, could be fun to play around with and get a rough estimate of how much you're actually eating ($2.99, iOS).
Have you tried any of these apps? Or would you rather not have to bother logging every calorie consumed?
Comments
comments