Here's the scoop on our favorite hassle-free sites to sell your stuff. Anything goes, from old phones to clothes to crafts! Start cashing in now.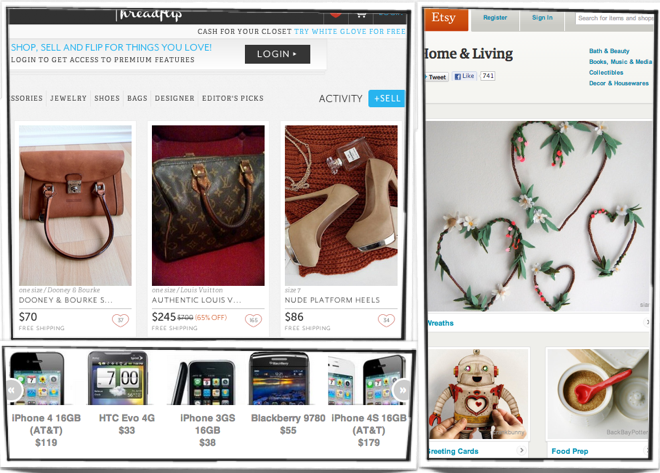 ExchangeMyPhone: Your old phone
Getting a new phone but don't know what to do with your old one? ExchangeMyPhone offers good prices for a variety of popular phones, and they don't even have to be in perfect condition.
SELL ALSO: How To Sell Old Electronics Online
eBay: Rare, branded, or sought-after items

You can sell just about anything on eBay, but you'll find the best luck listing rare items that have a niche market. Do you have classic toys like action figures, collectibles, or vintage electronics stored away in the attic or garage? You can search 'compared listings' for an idea of what similar items have sold for under the 'Advanced Search' tab.
Craigslist: Large items like furniture

Try Craigslist to sell large items to local purchasers. Expensive-to-ship furniture, children's items like strollers and bikes, yard equipment, cars, exercise machines, and more will do well on Craiglist. You can even list services, job postings and places for rent.
99 Designs: Your own logo designs

Have a design background? Sign up and submit designs for logos, T-shirts, brochures and lots more, working closely with the lister for continual feedback. Win cash (and bragging rights) if the lister chooses to use your design!
Etsy: Your handmade products

Want to sell your art or homemade products? What about retro and collectible items? Set up your own online shop on Etsy and post your products. Browse other Etsy shops for inspiration on what to sell and how to market your store!
Copious and Threadflip: Gently used clothes and accessories

Copious and Threadflip are similar online marketplaces for selling your clothes and accessories. They offer a highly social shopping experience integrated with Facebook, Twitter, and Pinterest. On Threadflip, items that are not approved to be listed can be donated to a charity of your choice, and on Copious, you can choose to donate your proceeds.
RELATED: Unclutter Your Closet 
Facebook: Anything your friends might want

Did you know you can sell your stuff on Facebook? Sell anything from high-end furniture and housing to books by posting photos and small ads on Facebook. It's easy to sell to your friends, and word spreads quickly as they can help re-share your items.
Amazon: Not only for books

Amazon may be known best for book shopping but you can also sell on Amazon – and you can list virtually anything. Amazon makes it a piece of cake for both the seller and buyer, and it's a very trustworthy platform so no need to worry. It's awesome because you don't have to pay any fees until your item sells.
Car Daddy: Your car

When you can't find a dealer who will take your current vehicle as a trade-in, Car Daddy will let you list it for sale along with a photos of your sweet ride.
Quirky: For products that don't even exist yet

Got a product idea in mind? Submit your invention to Quirky for community members to vote and comment on. The best will be voted on by the Quirky staff – and if your product is chosen, Quirky will turn your idea into reality after several stages of product development. See your product launched and enjoy lifetime royalties as the original inventor!
What have you successfully sold online? Where are your favorite places to sell? Tell us below.
RELATED: 5 Creative Ways To Earn Extra Money
SOURCES: 
Written by Ashmi Pathela